SMARTSLEEVE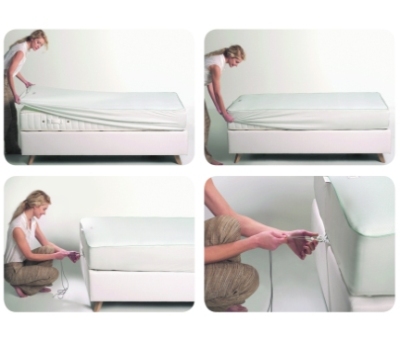 SLEEP VENTILATED
The SmartSleeve three-dimensional structure will optimise your sleeping comfort. Each SmartSleeve consists of a unique protective layer with X-connections. This innovative technology will create a ventilating and moisture regulating effect: excessive warmth will be absorbed and transpiration fluid will evaporate.
SLEEP ALLEGEN PROTECTED
The microcapsules in this SmartSleeve contain natural probiotics. Friction with the body will open the microcapsules and release natural probiotics, which will multiply. Allergens are 100% naturally reduced with a healthy microflora as a result. This is strongly reducing the chance of house dust mite allergy.
SLEEP THERMO REGULATED
The Outlast-technology will provide a balanced body temperature and, thanks to application of the patented Thermocules, they absorb excess body heat and give off heat when the body temperature drops.